Several months back, all students were required to make definite decisions as to which modules to take in the next year at the university. Unfortunately, there were too many interesting modules that I wished I had the superhuman ability to take and too few credits to allow such superhuman abilities to emerge.
Personally, I would have to say it had got to do with the descriptions they gave under each title: fascinating enough to spark interest but with not enough details to milk information from. Also, there were several 'rules' that we had to stick to, such as the allocation of a certain number of credits for pre-seventeenth century modules so that we can have a broader historical reading. A good idea, actually, although it could mean giving up another module you might want more.
After much deliberation and a couple of emails later, my first and second choices were sent in. And I just got the timetable a few days ago.
I got my first choices, which I am happy about!
Eighteenth-Century Writing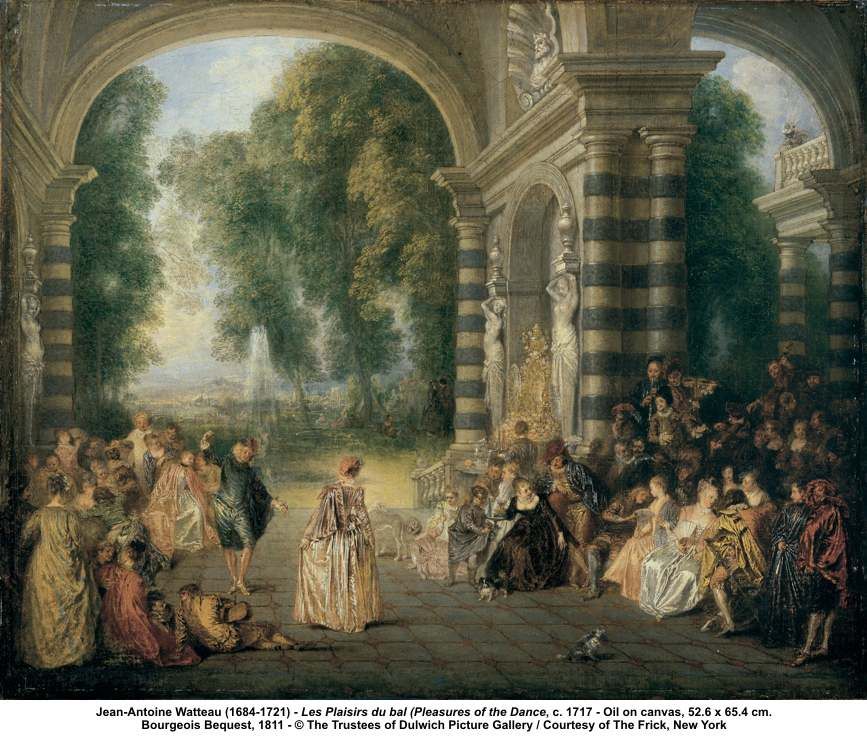 Plaisirs du bal (Pleasures of the Dance) by Jean-Antoine Watteau
This module reads major British fiction and some poetry of the eighteenth century in terms of its relation to the development of society which is recognisably modern. We will examine such writers as Defoe, Swift, Pope, Richardson, Fielding and Sterne, and exploring the `rise of the novel', the coming dominance of prose representation in journalism and fiction, the rise of the middle class, the move to an urban cash-nexus society governed by reason and contractual economic exchange, and the construction of new kinds of subjectivities for men and women according to the needs of middle-class patriarchy. In many ways, this module studies the development of the `modern mind'.
Modernism
The Persistence of Memory by Salvador Dali
The purpose of this module is to study the literature of the early decades of the twentieth century - very roughly 1900-1930 - in particular the work of those authors who attempted to break with received norms of literary style and content. The module is organised as a series of thematic explorations - poetic experiment, memory and desire, myth and innovation, and so on - and thus does not follow a chronological structure. The sequence of guiding lectures focuses its deliberations on a set of specific texts, with their contexts, and these are taken up for discussion in the accompanying seminars. 'Modernism' is this constructed gradually over the semester as a mosaic of closely related issues, each one reflecting on the others. As well as providing an overview of defining textual features, in prose and poetry, the module is concerned also with the interrelation of text and context, offering a range of ways of conceiving of modernist literature as both of, and self-consciously ahead of, its historical moment.
Romanticism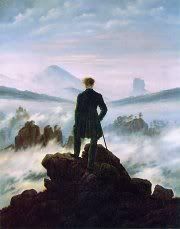 Wanderer Above the Sea of Fog by Caspar David Friedrich
Romantic Literature is often thought of as poetry, primarily work by Blake, Wordsworth, Shelley, Keats and Bryon. But the signs and forms of Romantic sensibility can also be found in a much broader constituency of writing practice: the novel, letter writing, the essay, political and aesthetic theory, and writing of all kinds taken as social commentary.
Shakespeare
Madam
Tussaud's
in Hong Kong (2009)
The aim of this lecture-seminar module is to help you become a better reader of Shakespearean drama. He was writing between about 1590 and about 1610; obviously his plays speak to us over a great cultural distance, and we can find fresh ways of reading them by exploring the theatrical, generic and historical frameworks in which they were written and staged. The lectures, then, will introduce a range of contexts, and the seminars will seek to turn them to account in the reading of the dramatic texts themselves.
Literature and Desire
Psychoanalysis on Bridge by Zdenek Janda
The aim of this module is to provide students with an understanding of the basic concepts and procedures of psychoanalysis, and the application of these concepts and procedures to literary texts. Beginning with an analysis of folk tales, we consider structures of desire in Shakespeare, Frankenstein, To the Lighthouse and the Brontes. The module requires systematic reading of the work of Freud, and some reading in Klein and Lacan, and equips students with a precise psychoanalytic understanding of how fantasy and projection contribute to the formation of literary significance. The teaching emphasis is on the presentation of class papers by students leading to intensive group discussions.
Creative Writing: Introduction
Amsterdam by Leonid Afremov

An introductory module open only to second year students. It is not available to students on the Creative Writing Minor and is offered as an alternative to other Level 2 Creative Writing modules. The teaching uses structured exercises based on objects, handouts, discussion and visualisation to stimulate the production of prose fiction and poetry. In the first half of the seminar students will write about 'what they know', drawing on notebooks, memories and family stories. In the second half the focus will shift to the work of established authors, using sample texts as a stimulus to students' own writing.
Disclaimer: Indented information are not in any way written by me and can be found in the website shown here. All photos obtained from Photobucket.
After deciding that I will do what I want instead of simply taking the 'safer, practical' path, I took the psychoanalysis module instead of the Publishing one. 19th-Century Writing was another module I would have liked to take, but timetable clashes disallowed that.
Apart from that, I'm pretty much contented.
What do you think?